Mrs. Sheila Dinkar Savur, did her schooling in Hindu High School in Karwar (Karnataka) and pursued her college education in Wilson College at Mumbai. She did B.A. in Philosophy and Psychology as majors in 1955. Thereafter, she completed M.A.(Philosophy) in 1957 from Mumbai University.
She is also an accomplished Classical music singer in her prime having been conferred "Sangeet Visharad" degree from Bhatkhande Music Vidyapeet of Lucknow.
She joined "Gandhi Shikshan Bhavan" at Juhu in 1965 as a Lecturer and simultaneously pursued Masters in Education (M.Ed.) from S.N.D.T. University, completed it in 1977 and continued to serve the Institution for 20 years till retirement in 1995. After retirement, she was persuaded to serve as a Secretary to 'Gandhi Shikshan Bhavan Trust'.
During her stint, she was selected by Mumbai University to coach M.Ed. students in the subjects of Methods of Education and other related subjects for 5 years.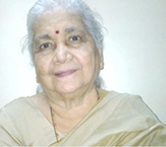 Mrs. Sheila Dinkar Savur