A Dynamic Educationist with over 26 years of Experience and a long list of credentials and laurels.
Principal S.N.B.P. School, Rahatni.
Earlier Associated with Indus World School, Pune, as a Director of Indus World School, Aurangabad, Academic Director- National, Indus World School, the Founder Principal of DAV Public School, Pune.
Was a Radio Artist at AIR, Baroda,
Was MR for ISO implementation at DAV Public School, Nerul,
Has been an editor to various School Magazines.
Has been invited by British Council twice to England with a gratis visa for a Cultural and educational Exchange program. Visited schools in Cornwall, England under this program.
Has been a Guest Editor for the Times of India
She is also in the advisory board for Tree Public Of India, an NGO working to promote Tree Plantation.
She is also a member of advisory board for an Organization Smt. Shanta Vaidya Foundation, which works for Dyslexic and Autistic children.
Awarded
by Avantika Sarla Chopra Memorial Samman for Invaluable and path breaking contribution for the promotion of Social Welfare, Education, Indian Art and Culture and by Dr. Radhakrishna Award for contribution in the field for Education
Felicitated
by Mrs. Gyan Sudha Mishra, Supreme Court Judge on the occasion of Women's Day at Bharatiya Vidyapeeth as a Woman of Substance from the city.
What is the message you would like to give aspiring teachers?
Teaching is an extremely fulfilling profession and there is an amazing scope for a passionate teacher. There is also a perennial dearth of good teachers in our country and the world. School teachers connect beautifully with the children and leave an everlasting impression in the young minds. School is the only institution which gets discussed at dining tables, family get-togethers, kitty parties or places of worship. Teachers are treated no less than celebrities by the parents and children. Teachers are embodiment of unconditional love and wisdom. By virtue of their profession they become role models to the children. For them we are the only Koran they will read in their lifetime, the only Vedas they will see, the only Bible they will experience, the only Dharma they will follow, Our life will either serve as a warning or an example. It is an awesome responsibility, but how else can you explain why we came into this planet before them or why are we in this noble profession. We are born with lot of failings but we cannot have our failings exposed to our children for the fear of passing it on. May we all work towards shedding all our failings and rise up to our students' expectations. May this noble profession transform us all into the most chosen individuals worthy of being called "Teachers"
What is the message you would like to give to parents?
Parents and Teachers are pillars of the foundation of childhood of every individual. They need to mutually respect each other's contribution for the sound upbringing of their child. Parents need to trust the teachers' judgment of their child. They should avoid speaking ill of the teachers in the presence of the child even if they observe any limitations. They should directly confront the teachers and share their expectation from them rather than discussing it among themselves or in presence of the students. This shall ensure a congenial environment for a holistic growth of the student.
Who has been your inspiration?
Students are my greatest inspiration. I owe a lot of the student population which has helped me evolve into an individual that is so different from " when it all began". Thank you Students for helping me see my reflection in your eyes !
What are the challenges a principal faces and how can she overcome them?
I always perceive challenges as opportunities. They have been my brain teasers and stimulants. So I have started loving them 
What is your philosophy on educating students?
In this era of easy access to information, teachers role as custodians of information no longer holds true. Education shall best happen when it is sought with an earnest curiosity, so teachers need to kindle that spark of curiosity while nourishing the excitement of discovery.
What is the one thing you would love to change in the existing education system?
I feel we need to have our focus getting shifted from teaching to learning. While the onus of learning should be with the learner, we are constantly discussing about the quantum of teaching that has been executed by the teachers. Once we trust our students to take up the responsibility of learning, schools will be happier places of learning.
by,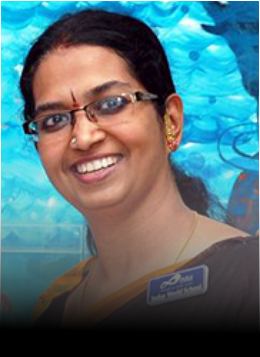 Mrs. Jayshree Venkatraman
Principal S.N.B.P. School, Rahatni